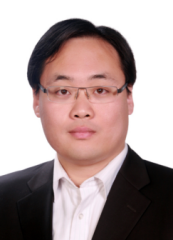 Prof. Wangqiang Xiao, Xiamen University, China

肖望强教授,厦门大学
Personal Website: https://aerospace.xmu.edu.cn/info/1050/1849.htm
Professor Wangqiang Xiao received his bachelor's degree in Engineering from Yanshan University and a doctorate degree in Engineering from University of Science and Technology Beijing. He is currently a professor and doctoral supervisor of Xiamen University, a "Hundred Talents Program" talent in Fujian Province, a high-level talent in Fujian Province, and a leading talent in the City of Xiamen Double Hundred Program (Class A), the first person to complete the first prize of Fujian Province's Science and Technology Award.
Professor Wangqiang Xiao has nearly 20 years of research foundation for vibration reduction and noise reduction, and has social part-time jobs: member of the Environmental Acoustics Branch of the Chinese Acoustical Society, director of the Vibration and Noise Control Professional Committee of the Chinese Society of Vibration Engineering, member of the noise pollution prevention and control expert database, international science and technology and Member of the editorial board of social magazine editorial board, member of the expert committee of modern manufacturing engineering journal, etc.
Professor Wangqiang Xiao made outstanding contributions: firstly, he made a breakthrough in proposing a particle energy dissipation technology based on sub-fluid contact force chain; secondly, he took the lead in proposing a new method for continuous-discontinuous particle many-body coupled dynamics modeling; Thirdly, the innovative new technology of vibration reduction and isolation is proposed; in addition, the first to establish the particle rheology and reconstruction model of the "fourth state" characteristic.
肖望强,现任厦门大学教授、博士生导师,福建省"****"人才,福建省高层次人才,厦门市双百计划领军人才(A类),福建省科学技术奖一等奖第一完成人。
肖望强教授具有近二十年减振降噪研究基础,具有社会兼职:中国声学学会环境声学分会委员会会员、中国振动工程学会振动与噪声控制专业委员会理事、噪声污染防治专家库成员、国际科学技术和社会杂志编委会编辑委员会成员、现代制造工程杂志专家委员会委员等。
肖教授主持承担国家自然科学基金、福建省科技项目等省部级以上科研项目20余项,已发表SCI、EI收录高水平期刊40余篇;已获授权专利余百项。先后被评为"福建省最美科技工作者"、"福建省先进个人"、"中国机械制造工艺协会杰出青年",厦门大学优秀共产党员等。