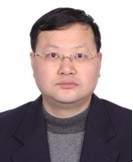 Prof. Li Guo, Hunan University, China
郭力教授,湖南大学
Title: Research on acoustic emission intelligent monitoring in grinding engineering ceramics
Abstract: Acoustic emission (AE) signal analysis by use of short time Fourier transform is used to monitor the grinding heat by ues of laser. The relationship between the acoustic emission signal of high speed grinding of engineering ceramics and grinding force, grinding temperature are studied. High precision AE monitoring of diamond grinding wheel wear in engineering ceramics grinding were carried out. The variance of wavelet decomposition coefficient of AE signal in alumina grinding is used as the input feature of support vector machine. The empirical mode decomposition (EMD) of grinding AE signal is used to extract the effective value, variance and energy coefficient of its intrinsic mode function as the input features of least squares support vector machine. The optimized BP neural network is used to monitor the grinding surface roughness with high precision by use of AE. The research solved the problem of acoustic emission monitoring in engineering ceramics grinding and laid the foundation for its practical application!
Experience: Prof. Li Guo obtained PhD at Xian Jiaotong University, China in 1992. Prof. Li Guo researched advanced materials join in car body with Prof. S Jack Hu at University of Michigan, USA in 2014. Prof. Li Guo researched advanced materials grinding in airplane engine with Prof. Xun Chen at University of Nottingham UK in 2007 and in advanced machine tool with Prof. W.B.Rowe at Liverpool John Moores University, UK in 2003-2004. High speed grinding acoustic emission Intelligent monitoring and high performance hydrostatic bearing spindle in machine tool are researched in China. Over 80 research papers have been published on Journals.
Prof. Yajun Liu, South China University of Technology, China
刘亚俊教授,华南理工大学
Title: Optimization Design and Intelligence Control of the Mechatronics System
Abstract: Mechatronics System is the system to transfer the energy to movements. In our reports, we introduced our work of how to design and control a Mechatronics system using mechanic principles and deep leaning method. It is important to know and use Bayes' rule in big data analysis intelligence system constructions.
Experience: Prof. Yajun Liu was born on September 20, 1974 in Jiangxi, China. Native speaker of Chinese, fluent in English. His Education and Academic Research Experiences is as follows:
December, 2016- Now Professor in South China University of Technology School of Mechanical and Automotive Engineering.
December, 2009- December, 2010. Visiting Professor in Fluid Power Research Center (FPRC) Purdue University at West Lafayette, USA.
Feb, 2005 – July, 2016. Post-doctoral Research Fellow, Tokheim JV company in China.
June, 2002 Ph. D. in Mechanical Engineering. South China University of Technology, Guangzhou,China.
His research interests include Digital signal processing technology and its application in mechanical systems (such as hydraulic System for Energy Saving.); Intelligence control and Manufacturing
Engineering. Moreover, Prof. Yajun Liu has published more than 150 papers in Journals and proceedings of international conferences. 35 patents on Mechanical System design and manufacturing.
Prof. Lei Mao, University of Science and Technology of China, China
毛磊教授,中国科学技术大学
Title: Use of artificial intelligence in battery & fuel cell PHM – our recent progress
Abstract: In this presentation, I will firstly provide the state-of-the-art of battery & fuel cell PHM and existing bottleneck issues, based on which the use of artificial intelligence in battery & fuel cell PHM is introduced, and our recent progress in their diagnosis and prognosis is also presented. Finally, the future research regarding battery & fuel cell PHM is commented.
Experience: Prof. Mao obtained his PhD degree at The University of Edinburgh, UK at 2012, and then worked as research associate at University of Portsmouth and Loughborough University, Prof. Mao joined University of Science and Technology of China at 2018. His research interests include performance degradation mechanism of mechatronic systems, advanced sensing technologies for lithium-ion battery and hydrogen fuel cell, information fusion with artificial intelligent methods, and intelligent control and maintenance strategies. He published over 60 SCI/EI paper, and applied the research outputs in practical applications such as energy storage power station.
Prof. Yanqiong Fei, Shanghai Jiaotong University, China
费燕琼教授,上海交通大学
Title: Soft-rigid Lower Limb Rehabilitation Robot
Abstract: The lower limb rehabilitation robot is a special robot, which has become one of the hot spots in the world. Due to the development of soft robot technology and the shortcomings of rigid rehabilitation robot, such as poor compliance with the human body, difficult alignment with the biological joints and large weight/inertia applied on the biological extremities, degrading the wearing comfort, safety and efficiency. A novel soft-rigid exoskeleton rehabilitation robot for lower limb, including soft-rigid structures, control and some experiments, will be presented.
Experience: Yanqiong Fei received the M. Eng. Degree in Southeast University, Jiangsu, China, in 1998, and the Ph.D. degree in Shanghai Jiaotong University, Shanghai, China, in 2002. She is a Professor in Research Institute of Robotics, Shanghai Jiaotong University, Shanghai, China. From Sept. 2010 to Sept. 2011, she was a visiting scholar in Department of Mechanical Engineering, MIT. Her research interests include robotics, rehabilitation robot, soft robot, modular robot and so on. She published over 100 papers, 3 books' chapters, 23 patents in these areas.
Prof. Yaobao Yin, Tongji University, China
訚耀保教授,同济大学
Title: Characteristic reconstruction theory of high end electro-hydraulic servo valve under extreme environment
Abstract: High end electro-hydraulic servo valve has high performance and high reliability which are mounted on the important equipment and working under extreme environments, and which are required to achieve the necessary service performance under special conditions such as extreme temperature, shock, vibration and acceleration. This speech will introduce the modeling methods and new mathematical models of nozzle flapper servo valve, jet pipe servo valve and deflector jet servo valve under high acceleration environment, as well as the mechanism and mathematical models of null bias and null shift of high-end servo valve. In addition to, the speech will also include the relationship between the shape and characteristics of the key core parts under extreme temperature range, and introduce the analysis methods and examples of dimension chain reconstruction and performance reconstruction of servo valve. The latest research progress and trend of electro-hydraulic servo components will be shared.
Experience: Professor Yin Yaobao, is vice dean and faculty of Department of Mechanical Engineering of Tongji University. He got his B.Sc degree and M.Sc.Eng degree from Shanghai Jiaotong University in 1988 and 1991, and got his Dr. Eng. Degree form Saitama University of Japan in 1999. He had worked as a Senior Engineer in Shanghai Aerospace Bureau and Tokyo Keiki Inc. of Japan.
His research includes:
1. Fluid power transmission and control under extreme environment;
2. Servo mechanism and power unit of aircraft;
3. High speed hydraulic and pneumatic servo system, servovalve; Advance pile machine
4. Advance energy and power control; Ocean wave energy converter.